Profile
Author:Roselee Zajdel
Welcome to FC2!
How To Deal With An Achilles Tendon Rupture
Overview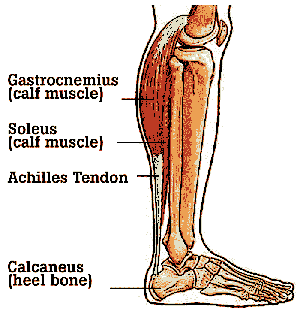 An Achilles tendon injury can affect both professional and amateur athletes. The Achilles tendon is one of the longer tendons in your body, stretching from the bones of your heel to your calf muscles. You can feel it, a springy band of tissue at the back of your ankle and above your heel. It allows you to extend your foot and point your toes to the floor. Unfortunately, it's a commonly injured tendon. Many Achilles tendon injuries are caused by tendinitis, in which the tendon becomes swollen and painful. In a severe Achilles tendon injury, too much force on the tendon can cause it to tear partially or rupture completely.

Causes
People who commonly fall victim to Achilles rupture or tear include recreational athletes, people of old age, individuals with previous Achilles tendon tears or ruptures, previous tendon injections or quinolone use, extreme changes in training intensity or activity level, and participation in a new activity. Most cases of Achilles tendon rupture are traumatic sports injuries. The average age of patients is 29-40 years with a male-to-female ratio of nearly 20:1. Fluoroquinolone antibiotics, such as ciprofloxacin, and glucocorticoids have been linked with an increased risk of Achilles tendon rupture. Direct steroid injections into the tendon have also been linked to rupture. Quinolone has been associated with Achilles tendinitis and Achilles tendon ruptures for some time. Quinolones are antibacterial agents that act at the level of DNA by inhibiting DNA Gyrase. DNA Gyrase is an enzyme used to unwind double stranded DNA which is essential to DNA Replication. Quinolone is specialized in the fact that it can attack bacterial DNA and prevent them from replicating by this process, and are frequently prescribed to the elderly. Approximately 2% to 6% of all elderly people over the age of 60 who have had Achilles ruptures can be attributed to the use of quinolones.

Symptoms
A classic sign of an Achilles tendon rupture is the feeling of being hit in the Achilles are. There is often a "pop" sound. There may be little pain, but the person can not lift up onto his toes while weight bearing.

Diagnosis
The doctor may look at your walking and observe whether you can stand on tiptoe. She/he may test the tendon using a method called Thompson?s test (also known as the calf squeeze test). In this test, you will be asked to lie face down on the examination bench and to bend your knee. The doctor will gently squeeze the calf muscles at the back of your leg, and observe how the ankle moves. If the Achilles tendon is OK, the calf squeeze will make the foot point briefly away from the leg (a movement called plantar flexion). This is quite an accurate test for Achilles tendon rupture. If the diagnosis is uncertain, an ultrasound or MRI scan may help. An Achilles tendon rupture is sometimes difficult to diagnose and can be missed on first assessment. It is important for both doctors and patients to be aware of this and to look carefully for an Achilles tendon rupture if it is suspected.

Non Surgical Treatment
The treatments of Achilles tendonitis include resting the painful Achilles tendon will allow the inflammation to subside and allow for healing. A period of rest after the onset of symptoms is important in controlling Achilles tendonitis. In patients who have more significant symptoms, a period of immobilization can help. Either a removable walking boot or a cast can allow the inflamed tendon to cool down quickly. A heel wedge can be inserted into the shoe to minimize the stress on the Achilles tendon. These can be placed in both athletic and work shoes. Applying ice to the area of inflammation can help stimulate blood flow to the area and relieve the pain associated with inflammation. Apply ice several times a day, including after exercise. The pain and swelling most commonly associated with Achilles tendonitis can be improved with non-steroidal, anti-inflammatory medications (NSAIDs) which include Celebrex?, Advil?, Motrin?, Naprosyn?. Be sure to consult your physician before starting any medications. Physical therapists can help formulate a stretching and rehabilitation program to improve flexibility of the Achilles tendon. Cortisone injections should not be used for Achilles tendonitis. Studies have shown an increased incidence of Achilles tendon rupture after cortisone injections.



Surgical Treatment
The patient is positioned prone after administration of either general or regional anesthesia. A longitudinal incision is made on either the medial or lateral aspect of the tendon. If a lateral incision is chosen care must be taken to identify and protect the sural nerve. Length of the incision averages 3 to 10 cm. Once the paratenon is incised longitudinally, the tendon ends are easily identifies. These are then re-approximated with either a Bunnell or Kessler or Krackow type suture technique with nonabsorbable suture. Next, the epitenon is repaired with a cross stitch technique. The paratenon should be repaired if it will be useful to prevent adhesions. Finally, a meticulous skin closure will limit wound complications. An alternative method is to perform a percutaneous technique, with a small incision (ranging from 2-4 cm). A few salient points include: the incision should be extended as needed, no self-retaining retractors should be used, and meticulous paratenon and wound closure is essential. Postoperatively the patient is immobilized in an equinous splint (usually 10?-15?) for 2 weeks. Immobilization may be extended if there is any concern about wound healing. At the 2-week follow-up, full weight bearing is permitted using a solid removable boot. At 6 weeks, aggressive physical therapy is prescribed and the patient uses the boot only for outdoor activity. At 12 weeks postoperatively, no further orthosis is recommended.